Culture: interaction
Concept of status
Like Germans and Czechs, Slovenes accord status to persons who have a high level of education. Professors and economists are respected as well as the professional classes. Slovenes have succeeded better than most ex-Communist peoples in casting off former party officials. This took time, but the regime is certainly becoming more and more meritocratic as time passes.
Gender issues
Few women reach top executive level, but the equality of the sexes is well-established in comparison with other former Yugoslav cultures. Women have entered politics and have a high level of education. In rural areas Slovene women pride themselves on their homemaking qualities.
Leadership style
The Slovenes were governed by the Austrian Habsburgs from the 13th century until 1918. In that year Slovenia became part of the Kingdom of the Serbs, Croats and Slovenes, which was named Yugoslavia in 1929. Leadership began in the Courts and filtered downwards through Court officials. Often in their history Slovenes have been denied the right to rule themselves. After World War II leadership was invested in Belgrade and practised according to rank in the Communist Party. Since 1992 Slovene leaders have arisen among non-Communist coalition politicians, characterised more by pragmatism than idealism or rhetoric. There is little of the flamboyance displayed by Serbian and even Croatian leaders. In business and academia, qualifications set standards. Orderliness in society is seen as important. Gradually Western European-style democracy is taking hold.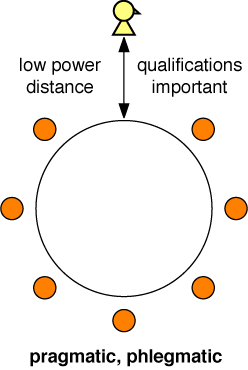 Language of management
The Slovenian language differs considerably from Serbo-Croat and Slovenians welcome the difference. Both languages possess rich Slavic vocabularies, but whereas Serbs in particular address their followers with frequently fiery rhetoric, Slovenian managers tone down emotion and substitute logic and reasoning.

Motivation factors
Solutions should be discussed more than problems
Be logical at all times
Give plenty of context and explain motives
Consider worst case scenarios as well as rosy ones
Evince calmness and sincerity
Refer to Slovene achievements
Recognise their independence and uniqueness
Praise the beauty of their land
Share their love of the arts
Indicate trustworthiness and loyalty
Use academic titles
Talk about quality rather than quantity
Offer worthwhile challenges
AVOID
Praising Serbs, Croats or Bosnians
Political discussion
Ostentatious behaviour
Calling them Slovaks
General behaviour at meetings
Meetings in Slovenia are orderly affairs without attaining Teutonic standards of Ordnung. Slovenes are procedures-oriented and generally prefer to follow agendas, though some digression is often permitted. They are in general very business-like and love nothing more than to close deals. Like nationals of many small countries, they are persistent and leave no stone unturned to secure a deal. They will also eagerly go for peripheral business if they fail to secure the central contract. As in most small states, everyone seems to know each other and networking is one of their strengths. Meetings start and finish on time and socialising is a frequent option afterwards. They are not great on small talk, but enquire politely about the well-being and comfort of visitors. They like documentation and write careful minutes concerning what was discussed and agreed. Red tape is not unknown, but less of a problem than it is in most Balkan countries.

Key to Diagram
Linear-active people need relatively little preamble or small talk before getting down to business. They like to introduce bullet points which can serve as an agenda. Tasks or issues are segmented, discussed and dealt with one after the other. Solutions reached are summarised in the minutes.
Negotiating characteristics
Slovene negotiating characteristics are factuality, rationality and persistence. The following points are worthy of note:
The full content of a situation should be explained at the outset
Speculative or doubtful hypotheses are avoided (shades of previous experience with Yugoslavs)
Proposals should be clear and achievable
A gradualistic approach to problems is commended
One can wait patiently for solutions, but an indefinite delay is not acceptable
Problems should not be dwelt upon without an accompanying solution
Procedures and structures are an important part of discussion
Bargaining and haggling is low key – Slovenes prefer to keep within agreed parameters regarding price, delivery etc.
They like predictability and react against new ideas suddenly thrust upon them
When they conclude a deal, they can be relied upon to go ahead
Contracts and commitments
They rarely fail to meet their commitments. On the few occasions when they do not go ahead, it is usually due to lack of resources rather than lack of will.
Manners and taboos
Slovenes are well-mannered people who shun ostentation, flamboyance and unruly behaviour. They are very conscious of other Slavs' exaggerations and like to distance themselves from their eastern neighbours. Do not call them "Yugoslavs" and do not place them in the Balkans. They prefer to be considered as Central European. They have a rich folklore and love music.
How to empathize with them
Travel around, see their country and share their enthusiasm for it. Socialise whenever you can, be generous at all times. Slovenes have a reputation for thrift but respond well to receiving gifts and favours. Bear in mind Slovenes respect correctness and civility. Charisma is permitted, but unnecessary in their eyes. They prefer solidity.